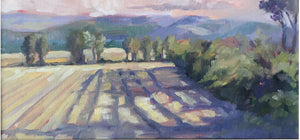 Summer Evening Ryegrass Fields - Reproduction
The summer cutting of rye grass lays in purple and gold rows, drying in the afternoon sun.  Thunderclouds build over the pink tinged Cascades in the distance.  The fields valiantly push back against the primordial bush that stretch their shadowy fingers over the lines.  You too can enjoy the scene from my backyard for yourself. Original oil painting is 7" X 10".
Reproductions are available in 2 size options on art paper or on stretched canvas. 
Art Paper:
Smooth Fine Art Paper, Moab Entrada Bright White 290 gsm, 21.5 mil, archival:
Bright white, 100% cotton, slightly textured, smooth fine art surface. Exceptional color reproduction and. Moab Entrada is an archival paper for beautiful long lasting prints.
Stretched Canvas:
Lyve Canvas Stretched Canvas, 450 gsm, 19 mil
Premium, high quality wood stretcher bars, dried to reduce warping and cracking. Timeless Satin varnish, hand sprayed, not machine coated. This stretched canvas  is a regular .75" depth stretcher bar. If you would like a 1.5" deep gallery wrapped style canvas leave this note in the comment box. 
All materials are certified archival.
---
We Also Recommend
---